Memorial Day Sale for this weekend only - 98% Off
Get 4 of Our Best Courses, 98% Off To Help You Do More Deals and Unlock Our 3 Day Payday System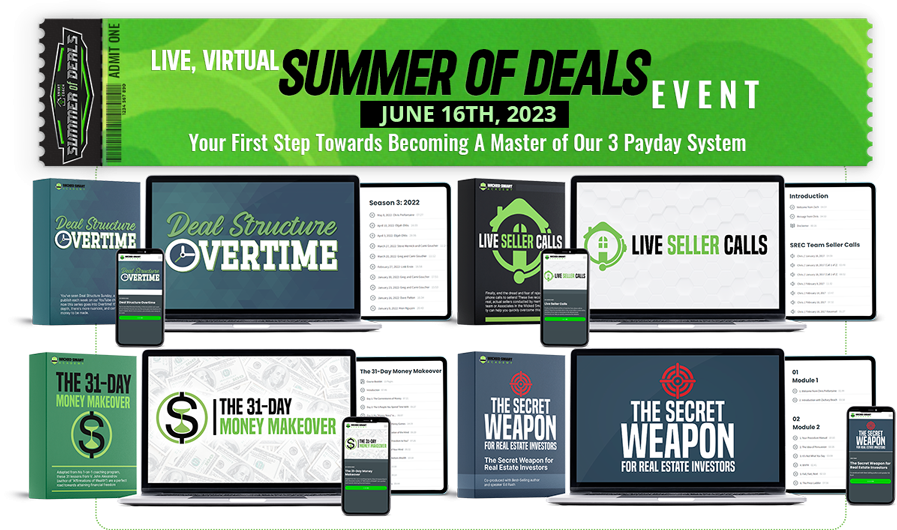 Unlock Our PROVEN 3 Payday System™ To Generate as much as $75,000+ per deal...
$2594 $47 TODAY
What's included?
• LIVE SUMMER OF DEALS EVENT • COURSES • TRAININGS • BOOKS • CONTRACTS • SCRIPTS • RECORDED COACHING CALLS • PRIVATE EVENT RECORDINGS • PRIVATE INTERVIEWS • WORKSHEETS & WORKBOOKS •
If you ever wanted to learn how to Buy and Sell Properties on TERMS and replace or add an income stream, but didn't know the first step - then this may be the most important message you'll read.
That's because you and I are currently in a unique window of time.
Chaos creates opportunity. The stock market is down…
Retirement and savings accounts are disappearing
While food and gas prices are at an all-time high.
Credit card balances are skyrocketing just so people could make it to their next paycheck.
Are you dealing with doubt and uncertainty right now?
I want to show you a strategy we call the
3 Payday System
The Strategy we've Used To Generate as much as
$75,000+ per deal
using a simple 3 Payday deal structure, and how you can implement this on your next deal.…

Especially in this down market

The more CHAOTIC things are,The more OPPORTUNITY there is...

Which means right now is the perfect moment

To prepare yourself to make the most out of this situation....And come out at the other end even stronger than before.

If you're serious about making it through this market, you NEED to see this information.

We'll show you how to steal our success with Structuring Deals on TERMS!
If you're someone...
Looking for a new way to make a little extra money or even a substantial income - I'll show you how I use our 3 Payday System as a tool to create security and freedom.

Who wants to take control of your own economy and not depend on handouts, stimulus checks or an employer.

Who understands real estate is a proven path to wealth but you don't know how to get started.
Deal Structure Overtime ($499)
You'll see the 3 Types of TERMS Deal Structures used to close deals without having to risk your own capital.
Live Seller Calls ($497)
Know exactly what to say, and how to say it, so you're never caught off guard by a seller. This includes openings, objection handling, and closing.
The Secret Weapon ($799)
Learn how to grow profitability in the shortest amount of time possible. Create a new abundance of personal time, space, and freedom.
The 31-Day Money Makeover ($799)
Learn how to you can supplement or even replace your full-time income using these financial strategies from over 30 years of experience!
Bonus, This Weekend Only...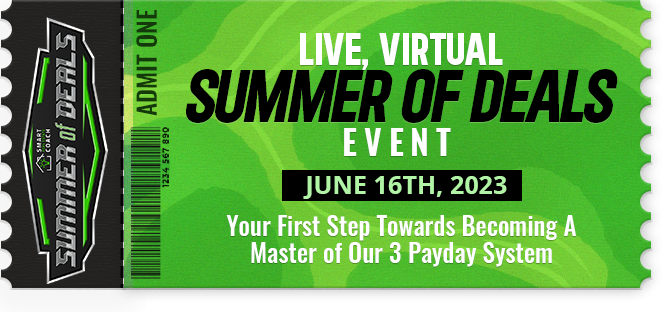 BONUS: Live, Virtual Summer of Deals Event (June 16th, 2023)
Your First Step Towards Becoming A Master of Our 3 Payday System
Memorial Day Sale for this weekend only - 98% Off
Get 4 of Our Best Courses, 98% Off To Help You Do More Deals and Unlock Our 3 Day Payday System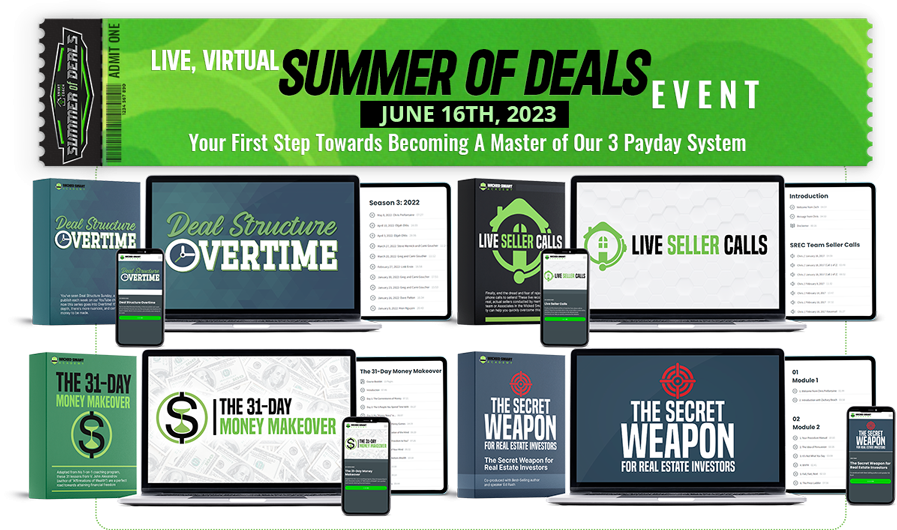 Get Access To Our Winning Courses, Cheat Sheets And Real Estate Strategies For Only $47